STUDIO EXPRESS - MINIPORTRAIT - ID CAMERAS
FOR SALE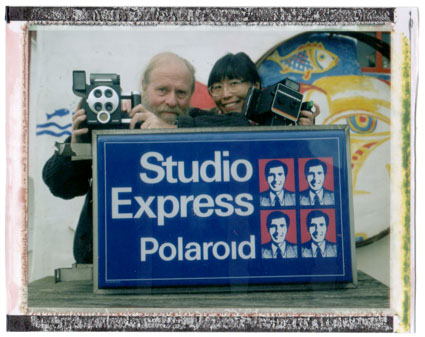 - All cameras have been tested and are in good working condition.
- Most cameras have been pre-owned: normal wear should be expected.
- Cameras will be shipped worldwide from Ireland with registred mail.
- When ordering several items, excessive postage will be refunded if applicable.
- Only Paypal payments are accepted.
- Prices are in Euros. (US$ multiply Euro by 1.1 / GBP devide Euro by 1.2)
- Returns accepted within 1 week (postage paid by buyer).
- Enquiries at info@redfoxpress.com

>> See photo gallery for photographs taken with these camera types.











STUDIO EXPRESS MINIPORTRAIT M403R
Made in China.
2002


Shooting 4 passport pictures 35x45 mm on 100 pack film
Two focal distances 1.92M and 1.2M. with sonar fine adjustment.
F stops are 8 to 32.
Fixed shutter speeds.
Setting for 100 and 3000 ISO
Can be used with or without bouncable Flash
Separate flash with x-sync cable also possible
Digital selection on LCD for taking 2 or 4 identical pictures, or 4 different pictures
Takes 4 AA batteries
6 volts DC socket for AC adapter.
With removable Polaroid film holder model 73A.
Batteries not included
Like new.

PRICE: 270 EURO (+ SHIPPING 50 EUROS - HEAVY)








STUDIO EXPRESS 403
Made in Japan.

Shooting 4 passport pictures 35x45mm on 100 pack film
Two focal distances 1.2 m and 1.92 m with sonar fine adjustment. (the focal distance 1.92 needs extra lenses)
F stops are 8 to 32.
Shutter speeds 1/60 and 1/125.
Flash setting for 100 and 3000 ISO
Can be used with or without bouncable Flash
Separate flash with x-sync cable also possible
Selector switch for taking 2 or 4 identical pictures, or 4 different pictures
Takes 4 AA batteries.
6 volts DC socket for AC adapter.
With removable Polaroid film holder model 73A.

>> See photo gallery for photographs taken with these camera types.

PRICE: 235 EURO (+ SHIPPING 50 EUROS - HEAVY)








STUDIO EXPRESS / Miniportrait 203
made in Japan

Shooting 2 passport 45x70 mm pictures on 100 pack film
Two focal distances 1.2 m and 1.92 m with sonar fine adjustment. (the focal distance 1.92 needs extra lenses)
F stops are 8 to 32.
Shutter speeds 1/60 and 1/125.
Flash setting for 100 and 3000 ISO
Can be used with or without bouncable Flash
Separate flash with x-sync cable also possible
Selector switch for taking 2 different pictures or 2 identical pictures.
Takes 4 AA batteries.
6 volts DC socket for AC adapter.
With removable Polaroid film holder model 73A.
>> See photo gallery for photographs taken with these camera types.

PRICE: 235 EURO (+ SHIPPING 50 EUROS - HEAVY)








STUDIO EXPRESS 203
made in UK

Shooting 2 passport 45x70 mm pictures on 100 pack film
Two focal distances 1.2 m and 1.92 m with sonar fine adjustment. (the focal distance 1.92 needs extra lenses)
F stops are 8 to 32.
Fixed shutter speed.
Flash setting for 100 and 3000 ISO
Can be used with or without bouncable Flash
Separate flash with x-sync cable also possible
Selector switch for taking 2 different pictures or 2 identical pictures.
Takes 4 AA batteries.
6 volts DC socket for AC adapter.
With removable Polaroid film holder model 73A.

PRICE: 235 EURO (+ SHIPPING 50 EUROS - HEAVY)








STUDIO EXPRESS M 203
made in UK

Shooting 2 passport 45x70 mm pictures on 100 pack film
Two focal distances 1.2 m and 1.92 m with sonar fine adjustment. (the focal distance 1.92 needs extra lenses)
F stops are 8 to 32.
Fixed shutter speed.
Flash setting for 100 and 3000 ISO
Can be used with or without bouncable Flash
Separate flash with x-sync cable also possible
Selector switch for taking 2 different pictures or 2 identical pictures.
Takes 4 AA batteries.
6 volts DC socket for AC adapter.
With removable Polaroid film holder model 73A.

PRICE: 235 EURO (+ SHIPPING 50 EUROS - HEAVY)


S O L D





RARE STUDIO EXPRESS 203 MODIFIED AS CLOSE-UP MINIPORTRAIT CAMERA
made in UK

Shooting 2 passport pictures on 100 pack film
Focal distances 45 cm with sonar for fine adjustment.
F stops are 8 to 32.
Fixed shutter speed.
Modified as follows:
- Fitted with 2 close-up lenses.
- Flash desactivated, but works with external flash.
- Setting for 100 ISO only
- takes 2 identical pictures only.
Separate flash with x-sync cable possible
Takes 4 AA batteries.
6 volts DC socket for AC adapter.
With removable Polaroid film holder model 73A.

PRICE: 255 EURO (+ SHIPPING 50 EUROS - HEAVY)


S O L D





STUDIO EXPRESS MINIPORTRAIT M209

Shooting 2 same passport pictures 45x70 mm on 100 pack film
One fixed focal distances of 1.2M.
F stops are 8 to 32.
Fixed shutter speeds.
Flash settings for 100 ISO films
Can be used with or without bouncable Flash
Separate flash with x-sync cable also possible
Takes 4 AA batteries
9 volts DC socket for AC adapter.
With non removable Film back.
Batteries not included
Made in China
Like new


PRICE: 185 EURO (+ SHIPPING 50 EUROS)








MINIPORTRAIT CAMERA 402

MADE IN JAPAN.
Shooting passport pictures on 100 pack film
Focal distance 1.2M.
Integrated measurement tape.
F stops are 8 to 32.
Shutter speeds: B, 60 and 125.
Possibility of adding a flash witn x-sync cable
Takes 4 pictures at once.
Can make different pictures if using 3 lens caps.
Works without batteries.
With Polaroid Film back.

PRICE: 185 EURO (+ SHIPPING 50 EUROS - HEAVY)








MINIPORTRAIT CAMERA 402

MADE IN JAPAN.
Same as above except:
- no external release cable
- view finder red inside as long as camera not cocked.

Shooting passport pictures on 100 pack film
Focal distance 1.2M.
Integrated measurement tape.
F stops are 8 to 32.
Shutter speeds: B, 60 and 125.
Possibility of adding a flash witn x-sync cable
Takes 4 pictures at once.
Can make different pictures if using 3 lens caps.
Works without batteries.
With Polaroid Film back.

PRICE: 190 EURO (+ SHIPPING 50 EUROS - HEAVY)








LESS COMMON STUDIO EXPRESS MODEL 402
MINIPORTRAIT CAMERA 402

MADE IN JAPAN.
Similar as above 2 models

Shooting passport pictures on 100 pack film
Focal distance 1.2M.
Integrated measurement tape.
F stops are 8 to 32.
Shutter speeds: B, 60 and 125.
Possibility of adding a flash witn x-sync cable
Takes 4 pictures at once.
Can make different pictures if using 3 lens caps.
Works without batteries.
With Polaroid Film back.

PRICE: 190 EURO (+ SHIPPING 50 EUROS - HEAVY)








LESS COMMON STUDIO EXPRESS MODEL 402 / NO CABLE
MINIPORTRAIT CAMERA 402

MADE IN JAPAN.
Similar as above.

Shooting passport pictures on 100 pack film
NO outside shutter release cable.
Focal distance 1.2M.
Integrated measurement tape.
F stops are 8 to 32.
Shutter speeds: B, 60 and 125.
Possibility of adding a flash witn x-sync cable
Takes 4 pictures at once.
Can make different pictures if using 3 lens caps.
Works without batteries.
With Polaroid Film back.

PRICE: 190 EURO (+ SHIPPING 50 EUROS - HEAVY)








STUDIO EXPRESS 485b

Made in Japan
1992
Shooting square format passport pictures
Originally for 80 pack films, converted to 100 pack films.
Fixed focus and speed
Aperture 8 to 32
Distance 1.2 m (or 1.8 m when using additional lenses)
With built-in distance tape.
With Polaroid Flash 485 (4 AAA batteries - in working condition)
Very nice condition.

PRICE: 180 EURO (+ SHIPPING 50 EUROS)








POLAROID MINIPORTRAIT 484
Made in Hong Kong

4 square miniportraits originally for 80 pack film
Modified for 100 pack films.
Selection possibilities: 4 same or 4 different.
Focal distance 1.20 to 1.80 m
Switch for colour or B&W.
Fixid shutter speed and aperture
Flash needs 4 AA batteries.
Works without batteries also (without flash).

PRICE: 180 EURO (+ SHIPPING 20 EUROS)








RARE STUDIO EXPRESS MINIPORTRAIT 455

The big brother from the 403 (twice the size).
For 4x5" packfilm.
Shooting 4 passport pictures on 4x5 packfilm
Two focal distances 1.92M and 1.2M. with sonar fine adjustment.
Extra lenses needed for 1.92 meter.
F stops are 8 to 32.
Shutter speeds 1/60 and 1/125.
Setting for 100, 400 and 800 ISO
Can be used with or without bouncable Flash
Separate flash with x-sync cable also possible
Selector switch for taking 2 or 4 identical pictures, or 4 different pictures
Takes 4 AA batteries
With Film back and timer
Accaptable wear.

>> works only with batteries
>> front glass of viewd finder is missing / has no influence

PRICE: 175 EURO (+ SHIPPING 65 EUROS - VERY HEAVY)








RARE MINIPORTRAIT 454

The big brother from the 202 (twice the size).
For 4x5" packfilm.
Shooting 4 passport pictures on 4x5 packfilm
Two focal distances 1.92M and 1.2M.
Extra lenses needed for 1.92 meter.
F stops 8 to 32.
Shutter speeds 1/60, 1/125 and B.
Separate flash with x-sync cable also possible
Accaptable wear.

PRICE: 145 EURO (+ SHIPPING 65 EUROS - VERY HEAVY)








POLAROID MINIPORTRAIT CAMERA 202 - MADE IN JAPAN

Shooting passport pictures on 100 pack film
Focal distance 1.2M. Integrated measurement tape.
F stops are 8 to 32.
Shutter speeds: B, 125 and 60
Possibility of adding a flash witn x-sync cable
Taking 2 same or 2 different pictures.
Works without batteries.
With Polaroid film back.

>> See photo gallery for photographs taken with these camera types.

PRICE: 185 EURO (+ SHIPPING 50 EUROS - HEAVY)








POLAROID MINIPORTRAIT CAMERA 700ID - MADE IN BRAZIL - RARE

Shooting passport pictures on 100 pack film
Focal distance 1.2M. Integrated measurement tape.
F stops are 8 to 32.
Shutter speeds: B, 125 and 60
Possibility of adding a flash witn x-sync cable
Shoots automatically one picture after the other.
Works without batteries.
With fixed Polaroid film back.
Very nice condition.

>> See photo gallery for photographs taken with these camera types.

PRICE: 185 EURO (+ SHIPPING 50 EUROS - HEAVY)








POLAROID MINIPORTRAIT CAMERA 700ID - MADE IN JAPAN - RARE

Identical camera like above. except:
- Made in Japan.
- Never used. Mint condition. NEW IN BOX

PRICE: 210 EURO (+ SHIPPING 50 EUROS - HEAVY)


S O L D





NOT SO COMMON POLAROID MINIPORTRAIT 207 CAMERA

Shooting 2 passport pictures on 100 pack film
Focal distance ca. 1.2 m.
F stops are 8 to 64.
Fixed shutter speed.
Can be used with extra flash witn x-sync cable
Taking 2 pictures at once.
No batteries.
With Polaroid film back.
Made in Japan
Hard plastic body.

PRICE: 130 EURO (+ SHIPPING 22 EUROS)








CAMBO MULTISHOT PASSPORTRAIT MODEL 20
Made in Holand, 1970

Shooting passport pictures on 100 pack film
Focal distance 1.12M.
F stops are 8 to 32.
Shutter speeds: B, 50, 100
Possibility of adding a flash witn x-sync cable
Taking 2 same or 2 different pictures.
Works without batteries.
With Polaroid film back (no darkslide).

PRICE: 185 EURO (+ SHIPPING 50 EUROS - HEAVY)








CAMBO POLAROID MINIPORTRAIT MODEL 401
Made in Holland by Cambo

Shooting passport pictures on 100 pack film
Focal distance 1.12M.
F stops are 8 to 32.
Shutter speeds: B, 50, 100
Cambonar lenses 1:8/125
Possibility of adding a flash witn x-sync cable
Taking 4 same or 4 different pictures.
Works without batteries.
Removable Polaroid film back (no darkslide).

PRICE: 185 EURO (+ SHIPPING 50 EUROS - HEAVY)


S O L D





CAMBO POLAROID MINIPORTRAIT MODEL 401 (B)
Made in Holland by Cambo

Similar as above.
No release cable.
Removable Polaroid film back (no darkslide).

PRICE: 155 EURO (+ SHIPPING 50 EUROS - HEAVY)








CAMBO POLAROID MINIPORTRAIT MODEL 40 / SILVER
Made in Holland by Cambo

Shooting passport pictures on 100 pack film
Focal distance 1.12M.
F stops are 8 to 32.
Shutter speeds: B, 50, 100
Cambo Frankonar lenses 1:8/125
Possibility of adding a flash witn x-sync cable
Taking 4 same or 4 different pictures.
Works without batteries.
With fixed Polaroid film back.
Near mint condition.
PRICE: 185 EURO (+ SHIPPING 50 EUROS - HEAVY)








CAMBO POLAROID MINIPORTRAIT MODEL 40 / BLACK
Made in Holland by Cambo

Shooting passport pictures on 100 pack film
Focal distance 1.12M.
F stops are 8 to 32.
Shutter speeds: B, 50, 100
Cambo Frankonar lenses 1:8/125
Possibility of adding a flash witn x-sync cable
Taking 4 same or 4 different pictures.
Works without batteries.
With removable Polaroid film back.
No black slide.
Near mint condition.
PRICE: 185 EURO (+ SHIPPING 50 EUROS - HEAVY)








RARE POLAROID MINIPORTRAIT MODEL 201 CLOSE UP
Made by Cambo in Holand, 1970

Portraits close ups on 100 pack film
Focal distance 30 CM.
F stops are 8 to 32.
Shutter speeds: B, 50, 100
Possibility of adding a flash witn x-sync cable
Taking 2 same or 2 different pictures.
Works without batteries.
Removable Polaroid film back (no darkslide).
Separation between both pictures slightly bended
Used condition.

PRICE: 185 EURO (+ SHIPPING 55 EUROS - HEAVY)


S O L D





ACMEL MINIPORTRAIT TYPE CAMERA

4 square miniportraits originally for 80 pack film.
Modified for 100 pack films.
Selection possibilities: 4 same or 4 different pictures.
Focal distance 1.22
Apertures f 8 - 32
Fixid shutter speed

PRICE: 140 EURO (+ SHIPPING 20 EUROS)








ACMEL STUDIO EXPRESS TYPE CAMERA - "LICENSE 4"

Takes 4 times the same pictures.
4 different pictures possible by using lens caps.
Focal distance ca 1.20
Apertures f 8 - 64
Fixid shutter speed
Flash shoe and synchr. flash plug.

PRICE: 150 EURO (+ SHIPPING 20 EUROS)








POLAROID STUDIO EXPRESS TYPE CAMERA - MADE IN JAPAN

Takes 4 times the same pictures.
4 different pictures possible by using lens caps.
Focal distance ca 1.20
Apertures f 8 - 64
Fixid shutter speed
Flash shoe and synchr. flash plug.

PRICE: 150 EURO (+ SHIPPING 20 EUROS)


S O L D





POLAROID SLIDING ID-200 CAMERA

Same camera body like above.
Takes 2 times a picture and simultaneously a document in a slot on the side.
For making badges.
Focal distance ca 1.20
Apertures f 8 - 64
Fixid shutter speed
Hot shoe and synchr. flash plug.
Light diffuser that mounts on the sliding section is missing.

PRICE: 120 EURO (+ SHIPPING 20 EUROS)








RARE QUAD CAMERA WITH POLAROID BACK
Made by Avant Concord, Mass, USA.

4 same Portraits 100 pack film
Focal distance ca 120 CM.
F stop on all 4 lenses locked at f8.
Shutter speeds: 1/2 - 1/50 and B and T (positions 1/2 and 1/5 not accurate)
Works without batteries.
Fixed Polaroid film back.
All in metal.
Used condition.

PRICE: 120 EURO (+ SHIPPING 55 EUROS - HEAVY)








RARE SHACKMAN FOUR X FOUR / 100 packfilm

4 miniportraits on 100 pack film
Focal distance 1,2 meter
F stops are 11 to 64.
Fixed shutter speeds
Possibility of adding a flash witn x-sync cable
Works without batteries.
In metal, very heavy.
PRICE: 100 EURO (+ SHIPPING 55 EUROS)








RARE SHACKMAN FOUR X FOUR / 80 packfilm

4 miniportraits on 80 pack film
Focal distance 1,2 meter
F stops are 11 to 64.
Fixed shutter speeds
Possibility of adding a flash witn x-sync cable
The rotating disc allows to take 2 different pictures,
Works without batteries.
In metal, very heavy.
PRICE: 100 EURO (+ SHIPPING 55 EUROS)








RARE SHACKMAN TWO X ONE

2 miniportraits on 100 pack film
Focal distance 1,2 meter
F stops are 11 to 64.
Fixed shutter speeds
Possibility of adding a flash witn x-sync cable
Works without batteries.
In metal, very heavy.
PRICE: 120 EURO (+ SHIPPING 55 EUROS)


S O L D





RARE SHACKMAN THREE x TWO

6 miniportraits on 100 pack film
Takes 3 times 2 same picture by shifting 3 times the position of the Polaroid pack.
Focal distance 1,5 meter
F stops are 11 to 64.
Fixed shutter speeds
Possibility of adding a flash witn x-sync cable
Works without batteries.
In metal, very heavy.
PRICE: 160 EURO (+ SHIPPING 50 EUROS)








RARE SHACKMAN FOUR X ONE

4 different miniportraits on 100 pack film.
After each shot the lens has to be rotated by 90 degrees.
Focal distance 1,2 meter
F stops are 11 to 64.
Shutter speeds B to 250
Possibility of adding a flash witn x-sync cable
Works without batteries.
In metal, very heavy.
Noticable wear.
PRICE: 140 EURO (+ SHIPPING 55 EUROS)


S O L D





SHACKMAN MULTISHOT 84

4 miniportraits on 100 pack film
2 small square and 2 larger pictures.
Focal distance 120 CM.
F stops are 11 to 64.
Fixed shutter speeds
Possibility of adding a flash witn x-sync cable.
Works without batteries.

PRICE: 165 EURO (+ SHIPPING 20 EUROS)








SHACKMAN MULTISHOT 84 - BLUE BUTTON

4 same miniportraits on 100 pack film
4 different pictures are possible by using the rotating disc.
Button shutter release instead of cable.
Focal distance 150 CM.
F stops are 11 to 64.
Fixed shutter speed
No connection for flash witn x-sync cable.
Works without batteries.

PRICE: 155 EURO (+ SHIPPING 20 EUROS)








SHACKMAN MULTISHOT 84 - MORANE

ID camera manufactured by Shackman for MORANE
4 miniportraits on 100 pack film
2 or 4 different pictures are possible by using the rotating disc.
Shutter release cable.
Focal distance 150 CM.
F stops are 11 to 64.
Fixed shutter speed
Connection for flash witn x-sync cable.
Works without batteries.

PRICE: 165 EURO (+ SHIPPING 20 EUROS)








SHACKMAN MULTISHOT 102

2 miniportraits on 100 pack film
Focal distance 120 CM.
F stops are 11 to 64.
Fixed shutter speed
Possibility of adding a flash witn x-sync cable
Works without batteries.
Packfilm door needs repair / closes with rubberband

PRICE: 100 EURO (+ SHIPPING 20 EUROS)








SHACKMAN MULTISHOT 104

4 same miniportraits on 100 pack film
Focal distance 120 CM.
F stops are 11 to 64.
Fixed shutter speed
Possibility of adding a flash witn x-sync cable
Works without batteries.

PRICE: 120 EURO (+ SHIPPING 20 EUROS)


S O L D





SHACKMAN MULTISHOT 104 WITH DISC

4 miniportraits on 100 pack film
Shooting 4 different pictures by turning manually the lens disk.
Focal distance 120 CM.
F stops are 11 to 64.
Fixed shutter speed
Possibility of adding a flash witn x-sync cable
Works without batteries.

PRICE: 165 EURO (+ SHIPPING 20 EUROS)








RARE SHACKMAN MULTISHOT 106 WITH DISC

6 miniportraits on 100 pack film
The camera has 2 lenses and the Polaroid pack holder shifts on 3 positions.
Different pictures are taken by turning manually the lens disk.
Focal distance 120 CM.
F stops are 11 to 64.
Fixed shutter speed
Possibility of adding a flash witn x-sync cable
Works without batteries.

PRICE: 195 EURO (+ SHIPPING 20 EUROS)


S O L D





RARE "PHOTOPHONE IN-A-SNAP"
Made in India by Photophone Industries, Goa

4 square miniportraits originally for 80 pack film
Modified for 100 pack films.
Selection possibilities: 4 same / 4 different / 2 and 2
Focal distance 1.20 to 1.80 m
Integrated measurement tape.
Switch for colour or B&W.
Fixid shutter speed and aperture
Flash needs 4 AA batteries.
Works without batteries also (without flash).

PRICE: 165 EURO (+ SHIPPING 20 EUROS)


S O L D





RARE "PHIL IN-A-SNAP"
Made in India by Philsystems, Goa

4 square miniportraits originally for 80 pack film
Modified for 100 pack films.
Selection possibilities: 4 same / 4 different
Focal distance 1.20 to 1.80 m
Switch for colour or B&W.
Fixid shutter speed and aperture
Flash needs 4 AA batteries.
Works without batteries also (without flash).

PRICE: 165 EURO (+ SHIPPING 20 EUROS)


S O L D





FUJIRAMA FP-14 MINIPORTRAIT CAMERA

Shooting passport pictures on 100 pack film
Focal distance ca. 1.2 m.
F stops are 8 to 64.
Shutter speeds: 60 or 100
Incorporated electronic flash.
Can also be used without flash or with extra flash witn x-sync cable.
Taking 4 pictures at once.
4 AA batteries.
With Polaroid film back.

PRICE: 200 EURO (+ SHIPPING 50 EUROS - HEAVY)








FUJIFILM FP-14 DUAL MINIPORTRAIT CAMERA

Shooting passport pictures on 100 pack film
Focal distance ca. 1.2 m.
F stops are 8 to 64.
Fixed shutter speed
Incorporated electronic flash (not working).
Can be used with extra flash witn x-sync cable or by day light.
Taking 4 pictures at once.
4 AA batteries.
With Polaroid film back.

PRICE: 100 EURO (+ SHIPPING 20 EUROS)


S O L D





ORMAF MINIPORTRAIT CAMERA
508 SPEED MASTER
Made in Italy

Shooting 4 passport pictures on 100 pack film
Focal distance 1.2M.
F stops are 8, 11 and 16.
Fixed shutter speed.
Possibility of adding a flash witn x-sync cable
Takes 4 pictures at once or different pictures if using the lens caps
Works without batteries.
With Polaroid Film back.
With 4 lens caps.

PRICE: 175 EURO (+ SHIPPING 50 EUROS - HEAVY)








ORMAF STUDIOMASTER 541 CAMERA
with 5 lenses.

Made in Italy.
Shooting 4 same passport pictures on 100 pack film
By turn of a switch can take single portraits.
Focal distance ca. 1.2 m.
F stops are 8 to 32.
Fixed shutter speed
Shoe for electronic flash.
No batteries.
With Ormaf film back which can be heated (needs 9 v. cherger)

PRICE: 190 EURO (+ SHIPPING 50 EUROS - HEAVY)








MINIPORTRAIT TYPE CAMERA

Shooting 2 passport pictures on 100 pack film
Focal distance ca. 1.2 m.
F stops are 8 to 64.
Fixed shutter speed.
Can be used with extra flash witn x-sync cable
Taking 2 pictures at once.
No batteries.
With Polaroid film back.
Munufacturer and model type not mentioned.
Very heavy / metal body.

PRICE: 130 EURO (+ SHIPPING 55 EUROS)








INSTANT 4 PORTRAIT CAMERA BY TEKNO

Shooting 4 passport pictures on 100 pack film
Focal distance ca. 1.2 m.
F stops are 16, 22 and 32.
Fixed shutter speed.
Can be used with extra flash witn x-sync cable
Taking 4 pictures at once.
No batteries needed.
With Polaroid film back.
Signs of wear.

PRICE: 130 EURO (+ SHIPPING 25 EUROS)








LUPA 4 PRO CAMERA

Shooting 4 passport pictures on 100 pack film
Focal distance ca. 1.2 m.
F stops are 8 to 22.
Fixed shutter speed.
Can be used with extra flash witn x-sync cable
Taking 4 pictures at once.
No batteries needed.
With Polaroid film back.
Cable shutter release missing .. uses conventional cable.

PRICE: 130 EURO (+ SHIPPING 25 EUROS)


S O L D





LUPA INSTANT 2 CAMERA

Made in Italy
Shooting 2 same passport pictures on 100 pack film
Focal distance ca. 1.2 m.
F stops are 8 to 22.
Fixed shutter speed.
Can be used with extra flash witn x-sync cable
Taking 2 pictures at once.
No batteries needed.
With Polaroid film back.

PRICE: 140 EURO (+ SHIPPING 25 EUROS)








LUPA INSTANT 6M CAMERA - 4x5

Made in Italy
Shooting 6 same passport pictures on 4x5 film
Focal distance ca. 1.2 m.
F stops are 8 to 22.
Fixed shutter speed.
Can be used with extra flash witn x-sync cable
Taking 6 pictures at once.
No batteries needed.
With Polaroid 4x5 film back.

PRICE: 140 EURO (+ SHIPPING 25 EUROS)


S O L D





SIRCHIE DUAL FRAME IDENTIFICATION CAMERA

Mug shot camera made by Sirchie Fingerprint Labs.

Curious mini-portrait camera.
Shooting 2 different passport pictures on 100 pack film.
With flash light / cannot be switched off.
Focal distance ca. 1.2 M.
105 mm JML OPTICAL lenses made in Japan.
f 4.5 to 22
Fixed shutter speed.
With Lighten / Darken adjustment possibility.
No batteries - but needs connection to mains with 12 volt AC transformer
With Polaroid 100 Film back.
Has tripod socket.

NOT FOR SALE





LAMINEX ID PICTURES CAMERA

Photo Booth.

Curious mini-portrait camera.
Shooting 4 passport pictures on 100 pack film.
With flash light / cannot be switched off.
Focal distance 1.2M.
Fixed shutter speed.
With Lighten / Darken adjustment possibility.
Takes 4 same pictures, 2x2 same or 4 different.
No batteries - but needs connection to mains 220 volt / UK plug
With Polaroid Film back.
Has tripod socket.
Good results
22 x 16 x 27 cm / 2.5 kilo

PRICE: 165 EURO (+ SHIPPING 55 EUROS - HEAVY)








LAMINEX LX 400 ID CAMERA

Photo Booth.

Studio Express type camera camera.
Shooting 4 passport pictures on 100 pack film.
Takes 4 same pictures, 2x2 same or 4 different.
With flash light / cannot be switched off.
Focal distance 1.2M.
Fixed shutter speed.
With aiming light,
Lighter / darker adjustment.
With "Face lightener" setting possibility.
No batteries - but needs connection to mains 110 volt / US plug
With Polaroid Film back.
Has tripod socket.
Good results
22 x 16 x 28 cm / 2.5 kilo

PRICE: 165 EURO (+ SHIPPING 55 EUROS - HEAVY)








ID400 CAMERA *

Photo Booth.
Very similar as above but made in UK.

Studio Express type camera camera.
Shooting 4 passport pictures on 100 pack film.
Takes 4 same pictures, 2x2 same, 4 different or 3+1.
With flash light / cannot be switched off.
Focal distance 1.2M.
Fixed shutter speed.
With aiming light,
Lighter / darker adjustment.
With "Face lightener" setting possibility.
No batteries - but needs connection to mains 240 volt / continental plug
With Polaroid Film back.
Has tripod socket.
Good results
22 x 16 x 28 cm / 2.5 kilo

PRICE: 165 EURO (+ SHIPPING 55 EUROS - HEAVY)








LAMINEX LX 600 ID CAMERA

Photo Booth.

Studio Express type camera camera.
Shooting 6 passport pictures on 100 pack film.
Takes 6 same pictures, 2x3 same. 3x2 same or 6 different.
With flash light / cannot be switched off.
Focal distance 1.2M.
Fixed shutter speed.
With aiming light,
Lighter / darker adjustment.
With "Face lightener" setting possibility.
No batteries - but needs connection to mains 110 volt / US plug
With Polaroid Film back.
Has tripod socket.
Good results
22 x 16 x 28 cm / 2.5 kilo

PRICE: 165 EURO (+ SHIPPING 55 EUROS - HEAVY)








PHOTO IDENTIFICATION CAMERA ID2 ECONO *

Photo booth.

Mini-portrait type camera.
Shooting 2 passport pictures on 100 pack film.
With flash light / cannot be switched off.
Focal distance 1.2M.
Fixed shutter speed.
With Lighten / Darken adjustment possibility.
Takes 2 same or 2 different ID pictures.
No batteries - but needs connection to mains 110 volt / US plug.
Setting for color 100 ISO or B/W 3000 ISO.
With Polaroid Film back.
Has tripod socket.
Good results
24 x 28 cm / 2.3 kilo

PRICE: 125 EURO (+ SHIPPING 60 EUROS - HEAVY)








PHOTO IDENTIFICATION CAMERA ECONO DELUXE

Photo booth.

Mini-portrait type camera.
Shooting 4 passport pictures on 100 pack film.
Takes 4 same or 4 different or 2x2 ID pictures.
With flash light / cannot be switched off.
Aiming light.
Focal distance 1.2M.
Fixed shutter speed.
f 11-64
With Lighten / Darken adjustment possibility.
No batteries - but needs connection to mains 110-220 volt / US plug.
Connection from stand to camera 12 VDC.
Setting for color 100 ISO or B/W 3000 ISO.
With Polaroid Film back.
Electronic timer.
With stand.
Good results
25 x 63 cm / ca 5 kilo

PRICE: 165 EURO (+ SHIPPING 65 EUROS - VERY HEAVY)








POLAROID MINIPORTRAIT CAMERA MODEL 206B

Photo booth.

Mini-portrait type camera.
Shooting 2 passport pictures on 100 pack film.
Takes 2 same or 2 different ID pictures.
With flash light / cannot be switched off.
Aiming light.
Focal distance 1.2M.
Fixed shutter speed.
f 11-64
With Lighten / Darken adjustment possibility.
12 Volt VDC plug.
Needs a Polaroid M206B battery charger (NOT AVAILABLE).
Setting for color 100 ISO or B/W 3000 ISO.
With Polaroid Film back.

PRICE: 125 EURO (+ SHIPPING 60 EUROS - HEAVY)








POLAROID PHOTO IDENTIFICATION CAMERA DX-2

Photo booth.

Mini-portrait type camera.
Shooting 2 passport pictures on 100 pack film.
With flash light / cannot be switched off.
Flash boost possibility.
Aiming Light.
Focal distance 1.2M.
Fixed shutter speed.
With Lighten / Darken adjustment possibility.
Takes 2 same or 2 different ID pictures.
No batteries - but needs connection to mains 110 volt / US plug.
Taking 100 ISO packfilm.
With Polaroid film back CB-103.
Has tripod socket.
Good results / mint condition.
24 x 28 cm / 2.0 kilo

PRICE: 100 EURO (+ SHIPPING 55 EUROS - HEAVY)








POLAROID PHOTO IDENTIFICATION CAMERA DX-4 WITH STAND

Photo booth.
from ALPS (Arkansas Laminating products & Services)

Mini-portrait type camera.
Shooting 2 passport pictures on 100 pack film.
With flash light / cannot be switched off.
Flash boost possibility.
Aiming Light.
Focal distance 1.2M.
Fixed shutter speed.
With Lighten / Darken adjustment possibility.
Takes 4 same, 4 different or 2 x 2 ID pictures.
No batteries - but needs connection to mains 110 volt / US plug.
Taking 100 ISO packfilm.
With Polaroid film back CB-103.
Has tripod socket.
Good results / mint condition.
24 x 50 cm / 4.0 kilo

PRICE: 125 EURO (+ SHIPPING 60 EUROS - VERY HEAVY)








PHOTO IDENTIFICATION CAMERA from OER
Manufactured by Optical Electronic Research.
Photo booth.

Mini-portrait type camera.
Shooting 2 passport pictures on 100 pack film.
With 2 flash light / cannot be switched off.
With aiming and focus light.
Focal distance ca. 1.2M.
Fixed shutter speed.
With Lighten / Darken adjustment possibility.
Takes 2 same or 2 different ID pictures.
No batteries - but needs connection to mains 115 volt / US plug.
Setting for 100 ISO films.
With Polaroid Film back.
Has tripod socket.
Good results
26 x 26 x 13 cm / 3.5 kilo

PRICE: 165 EURO (+ SHIPPING 55 EUROS - HEAVY)








PHOTO IDENTIFICATION CAMERA from OER - MODEL PASSPORT
Manufactured by Optical Electronic Research.
Photo booth.

Mini-portrait type camera.
Shooting 2 passport pictures on 100 pack film.
With 2 flash light / cannot be switched off.
Focal distance ca. 1.2M.
Fixed shutter speed.
With Lighten / Darken adjustment possibility.
With view finder.
Takes 2 same or 2 different ID pictures.
No batteries - but needs connection to mains 115 volt / US plug.
Setting for 100 ISO films.
With Polaroid Film back.
Has tripod socket.
Good results
26 x 26 x 13 cm / 3.5 kilo

PRICE: 165 EURO (+ SHIPPING 55 EUROS - HEAVY)








PHOTO IDENTIFICATION - PC-2000 PASSPORTCAMERA
Photo booth.

Mini-portrait type camera.
Shooting 2 passport pictures on 100 pack film.
With flash light / cannot be switched off.
Focal distance ca. 1.2M.
Fixed shutter speed.
With Lighten / Darken adjustment possibility.
With view finder.
Takes 2 same or 2 different ID pictures.
No batteries - but needs connection to mains 115 volt / US plug.
Setting for 100 ISO films.
With Polaroid Film back.
Has tripod socket.
Good results
26 x 26 x 13 cm / 3.5 kilo

PRICE: 165 EURO (+ SHIPPING 55 EUROS - HEAVY)








PHOTO IDENTIFICATION CAMERA RAPID PLUS *
Manufactured by Shackman in UK.
Photo booth.

Mini-portrait type camera.
Shooting 4 same or 4 different or 2x2 passport pictures on 100 pack film.
With flash light / cannot be switched off.
With aiming and focus light.
Focal distance ca. 1.2M.
Fixed shutter speed.
With Lighten / Darken adjustment possibility.
No batteries - but needs connection to mains 220 volt / UK plug.
Setting for 100 and 3000 ISO films.
f 11 - 64.
With Polaroid Film back.
Has tripod socket.
Good results
22 x 16 x 23 cm / 2.5 kilo

PRICE: 150 EURO (+ SHIPPING 55 EUROS - HEAVY)








PHOTO IDENTIFICATION CAMERA MODEL ID4 88 D/L
Photo booth.

Mini-portrait type camera.
Shooting 4 different passport pictures on 100 pack film.
Originally for 80 pack film / moified for 100 pack film.
With flash light.
At each shot lenses are rotating mechanically for 90 degrees.
Focal distance ca. 0.9 M.
2 f 90 mm lenses 1:4.5
Apertures 4.5 to 22
Fixed shutter speed.
No batteries - but needs connection to mains 115 volt / US plug.
With aiming light.
With Polaroid Film back.
Has tripod socket.
Good results
with stand 55x20x25 cm / 3.5 kilo
PS. Only 1 lens is operating .. allowing thuss to take 4 different pictures. (maybe I could not find out how to switch on and off the second lens)

PRICE: 165 EURO (+ SHIPPING 55 EUROS - HEAVY)








PHOTO IDENTIFICATION CAMERA FROM
IDENTA-AUSWEISSYSTEME GMBG, GERMANY *
Photo booth.

Mini-portrait type camera.
Shooting 2 x 2 different passport pictures on 80 pack film.
With flash light.
At each shot lenses are rotating mechanically for 90 degrees.
Focal distance ca. 0.9 M.
2 f 90 mm lenses 1:4.5
Apertures 4.5 to 22
Fixed shutter speed.
No batteries - but needs connection to mains 220 volt / continental plug.
With aiming light.
With Polaroid Film back (80 pack).
Has tripod socket.
Good results
with stand 55x20x25 cm / 3.5 kilo

PRICE: 165 EURO (+ SHIPPING 65 EUROS - HEAVY)








PHOTO IDENTIFICATION CAMERA "IDENTIFIER 4 *"
Photo booth.

Mini-portrait type camera.
Shooting 4 different passport pictures on 100 pack film.
2 pictures 36x38 mm and 2 pictures 36x57 mm
With flash light.
At each shot the lens rotates clockwise mechanically for 90 degrees.
Focal distance 0.91 M.
Apertures 3.5 to 22
Fixed shutter speed.
No batteries - but needs connection to mains 115 volt / US plug.
With aiming light.
With metal Polaroid Film back.
Has tripod socket.
Comes with a metal stand (not on picture)
Like new - Good results
with stand 21 x 21 x 50 cm / 3.5 kilo
PRICE: 165 EURO (+ SHIPPING 55 EUROS - HEAVY)








PHOTO IDENTIFICATION CAMERA "IDENTICARD MODEL MA100 *"
Made by Identicard Lancaster, Pennsylvania.
Photo booth.

Mini-portrait type camera.
Shooting 4 different passport pictures on 100 pack film.
2 pictures of 35x38 mm and 2 pictures of 35x50 mm
With flash light.
At each shot the lens rotates clockwise mechanically for 90 degrees.
Focal distance 1.2 meter.
Fixed shutter speed and aperture.
Connection to mains 115 volt / US plug.
With aiming light.
Attached diecutter 25x32 mm Comes with a metal stand.
with stand 35 x 25 x 19 cm / 7 kilo
PRICE: 135 EURO (+ SHIPPING 70 EUROS - HEAVY)








PHOTO ID CAMERA FROM IDENTATRONICS
Photo booth.

Mini-portrait type camera.
Shooting 4 different 2x2 or 4 same passport pictures on 100 pack film.
With flash light.
Focal distance ca. 1 M.
Fixed shutter speed.
Lighten / darken dial.
No batteries - but needs connection to mains 115 volt / US plug.
With aiming light.
With stand.
With Polaroid Film back.

PRICE: 165 EURO (+ SHIPPING 55 EUROS - HEAVY)








PHOTO ID CAMERA FROM IDENTATRONICS - MODEL M6
Photo booth.

Mini-portrait type camera.
Shooting 4 different pictures on 100 pack film.
With flash light.
After each shot the lens rotates automatically 90 degrees.
Focal distance 107 cm.
Fixed shutter speed.
Lighten / darken dial.
No batteries - but needs connection to mains 115 volt / US plug.
With Polaroid Film back.

Reduced price because dent in upper left corner and left pannel (does not affect functions).

PRICE: 90 EURO (+ SHIPPING 55 EUROS - HEAVY)


S O L D





PHOTO ID CAMERA FROM "A IDENTIFICATION INC. TEXAS *"
Photo booth.

Mini-portrait type camera.
Shooting 4 different pictures, 4 same or 2 x 2 on 100 pack film.
With aiming light and flash light.
Focal distance ca 100 cm.
Fixed shutter speed.
Lighten / darken dial.
LED display.
Needs connection to mains 115 volt / US plug.
With Polaroid Film back.
Mint condition

PRICE: 160 EURO (+ SHIPPING 55 EUROS - HEAVY)








SIMUL-SHOT II
from O+ER (Optical and Electronic Research Inc.)

Mini-portrait type camera.
Shooting 2 same passport pictures on 100 pack film.
Focal distance ca. 1,2 M.
Fixed shutter speed.
f=135 lenses, 4,5 - 22
No batteries - but needs connection to mains 115 volt / US plug.
With Polaroid Film back.

PRICE: 95 EURO (+ SHIPPING 60 EUROS - VERY HEAVY)








SIMUL-SHOT II WITH STROBE
from O+ER (Optical and Electronic Research Inc.)

Mini-portrait type camera.
Shooting 2 same passport pictures on 100 pack film.
Focal distance ca. 1,2 M.
Fixed shutter speed.
f=135 lenses, 4,5 - 22
With strobe flash.
Needs connection to mains 115 volt / US plug.
With Polaroid Film back.

PRICE: 135 EURO (+ SHIPPING 65 EUROS - VERY HEAVY)


S O L D





PHOTO IDENTIFICATION CAMERA FROM GBC

Photo booth.

General Binding Corporation.
Shooting automatically 4 different passport pictures on 100 pack film.
With flash light / cannot be switched off.
With aiming light.
Focal distance 1.2M.
Fixed shutter speed.
Novoflex lens 4.5 - 32
No batteries - but needs connection to mains 110 volt or 220 volt
Settings for color 100 ISO or B/W 3000 ISO.
With Polaroid Film back.
Good results
Very heavy
The bottom part is the transformer 110 to 220 volts / Not for US

PRICE: 195 EURO (+ SHIPPING 65 EUROS - HEAVY)


S O L D





CUTE PORTABLE PHOTO IDENTIFICATION CAMERA FROM MORANE / RARE

Portable Photo booth.

Shooting 4 same or 2 or 4 different passport pictures on 100 pack film.
With flash light.
Focal distance 1.2M.
Fixed shutter speed.
f11 - 64
8 AA batteries.
With aiming and focus light.
With Polaroid Film back.
Working also without batteries (no flash) using external light.
great results
Made in England.

PRICE: 165 EURO (+ SHIPPING / HEAVY 50 EUROS)








POLAROID LAND IDENTIFICATION SYSTEM ID-3


Shooting 2 different ID pictures on 100 pack film.
Takes simultaneously a photograph of a document which can be introduced on the side of the camera.
Laminating system is missing.
Focal distance 1.4M.
Fixed shutter speed.
L/D adjustment.
TOMINON lens 1:4.5 - f=114 mm
With Polaroid Film back.
220 Volt, continental plug.
With aiming light and flash.
25x27x18cm

PRICE: 120 EURO (+ SHIPPING 65 EUROS - VERY HEAVY)








POLAROID LAND IDENTIFICATION SYSTEM ID-4


Shooting 2 different ID pictures on 100 pack film.
Takes simultaneously a photograph of a document which can be introduced on the side of the camera.
Laminating system is missing.
Focal distance 1.4M.
With Sonar Autofocus system.
L/D adjustment.
TOMINON lens 1:4.5 - f=114 mm
With Polaroid Film back.
110 Volt, US plug.
With aiming light and flash.
28x15x32cm

NOT FOR SALE








STUDIO POLAROID SPd 360

Electronic Document Imaging System.
Model SPd 360.
2000
Mini-portrait type camera.
Shooting 2, 4, 6 or 9 pictures on 100 pack film.
Focus 1.2m to infinity.
f 1 - 16
Zoom 5.7 - 34.2 mm
Has tripod socket.
Needs to be conected to a Studio Polaroid digital photo printer (included).
In good working condition
220 volt / continental plug

PRICE: 250 EURO (+ SHIPPING 65 EUROS / very heavy)




STUDIO POLAROID SPd 360
Printer alone / no cables.

In good working condition
220 volt

PRICE: 110 EURO (+ SHIPPING 60 EUROS / heavy)








STUDIO POLAROID SP 350

Electronic Document Imaging System.
Model SP 350.
Mini-portrait type camera.
2000
Shooting 2, 4, 6 or 9 pictures on 100 pack film.
Focus 1.2m to infinity.
f 1 - 16
Zoom 5.7 - 34.2 mm
Has tripod socket.
With Studio Polaroid photo printer SP149.
In good working condition.
All cables included.
220 volt / continental plug

PRICE: 225 EURO (+ SHIPPING 65 EUROS / very heavy)


S O L D

STUDIO POLAROID SP 350
CAMERA ONLY / WITH CABLES

In good working condition

PRICE: 100 EURO (+ SHIPPING 25 EUROS)








POLAROID DIGITAL MINI PORTRAIT CAMERA DMP

Mini-portrait type camera.
Model DMP 1246
2005

Shooting 1, 2, 4, or 6 pictures.
Prints in colour or B/W.
Uses C3000 Thermal Photo Ribbon and ZINC paper (not included).
3 x optical zoom / 6.2-18.6 mm
Has tripod socket.
In good working condition.
220 volt / UK plug

PRICE: 245 EURO (+ SHIPPING 55 EUROS / heavy)