RARE POLAROID 330 FILM TYPE CAMERAS
for integral film 331, 337 and 339 films

- Page updated FEBRUARY 28th 2022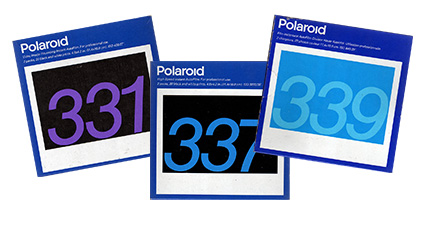 These films were produced in the 90's and were used in the medicine, research and event photography.
They were 11 mm wider than the Spectra cartridges and used a CB33 back.
Film type 331 and 337 were B&W films with ISO 400 and 3200.
Film type 339 was a 640 ISO color film.




RARE PORTRAMA EVENT CAMERA
With CB33 back for 330 type integral film
plastic body
For event photography.
Prontor-press lens
Fixed focal distance 30 cm
L/D adjustment
With socket for external flash

Takes a round picture from a person the middle.
There is a tray to put four 35 mm slides.
With a separate inside lighting the 4 vues from the slides will be shown on the picture around the person.
The inside lighting needs to be repared.


PICTURES CAN BE TAKEN ON SX-70 FILM BY INTRODUCING THE CASSETE IN THE CAMERA, SHOOTING AND DEVELOPE BY EJECTING FROM A SX-70 CAMERA.

PRICE: 200 EURO (+ SHIPPING 20 EUROS)








VERY RARE POLAROID CU-5 CLOSE-UP CAMERA 3" with integral CB33 back
Hard plastic body
With ring flash.

CB33 film holder for 330 TYPE Integral film (331,337 and 339).
Picture ejection by actioning the green button
Functions with 9 v battery
The 331 film is a 400 ASA B&W wide integral film 11.4x10.8 cm

PICTURES CAN BE TAKEN ON SX-70 FILM BY INTRODUCING THE CASSETE IN THE CAMERA, SHOOTING AND DEVELOPE BY EJECTING FROM A SX-70 CAMERA.

The Polaroid CU-5 is a professional fixed focus camera designed for close-up photography. The Tominon 1:4.7 f127 lens, app 4.7-45, is housed in an unnamed (possibly Copal Polaroid) shutter, with speeds from 125th to 1 second, plus 'B' and 'T' settings, with cable release.
The lens has a built in ring flash and PC socket. The removable Polaroid type 100 film back has a built in darkslide and an accessory shoe. Extension tubes could be fitted between the lens unit and the film back. The film back has a tripod socket designed to fit the dedicated pistol grip.

The aperture and shutter speeds are hidden from the user underneath a cover marked '5" Polaroid CU-5'. This cover has two settings, for 100 and 3000 ISO films. Opening this cover shows all the aperture and shutter speed settings, as well as the cable release; the shutter release is a trigger-like lever on the bottom of the lens unit.

To operate the ring flash the optional power pack is needed.

PRICE: 260 EURO (+ SHIPPING 45 EUROS)








RARE POLAROID DS39 CAMERA
(DIRECT SCREEN INSTANT CAMERA)
With CB33 back for 330 type integral film
plastic body
For close up photography.
Fixed focal distance 30 cm

The Polaroid DS34 is a professional fixed focus camera designed for close-up photography. The Tominon f4.5 105mm lens, stopping down to f32 is housed in a COPAL shutter, with speeds from 125th to 1 second, plus 'B' setting, with cable release. With a Polaroid type 100 film back. The camera has a tripod socket designed to fit the dedicated pistol grip.

PICTURES CAN BE TAKEN ON SX-70 FILM BY INTRODUCING THE CASSETE IN THE CAMERA, SHOOTING AND DEVELOPE BY EJECTING FROM A SX-70 CAMERA.

PRICE: 200 EURO (+ SHIPPING 20 EUROS)








RARE POLAROID MICROCAM with integral CB33 back
Fits on the viewing tube from a light microscope.
CB33 film holder for 330 TYPE Integral film (331,337 and 339).
Picture taking and picture ejection by actioning the remote shutter button.
Functions with 12 volt DC input (not included)
Automatic exposure control between 1/60 sec and 16 minutes.
Manual exposure control also possible
The 330 type films are wide integral film 11.4x10.8 cm having no batteries.

PICTURES CAN BE TAKEN ON SX-70 FILM BY INTRODUCING THE CASSETE IN THE CAMERA, SHOOTING AND DEVELOPE BY EJECTING FROM A SX-70 CAMERA.



PRICE: 220 EURO (+ SHIPPING 25 EUROS)