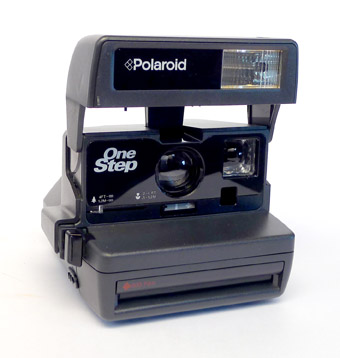 POLAROID 600 OneStep
1993

Lens: 116 mm f/11 Single-element
With Close-up lens 0.6-1.2m
Shutter: electronic; range around 1/4 - 1/200 sec
Exposure system: programmed automatic
Built-in electronic flash with override button.
Black plastic body - flash unit flips down to protect lens and controls.
Uses 600 type film from "The Impossible Project".

>> easy to use.
>> reliable and strongly built.
>> relativeley recent camera produced in the 1990's.
>> ideal for holiday pictures, parties or weddings.
>> allows pictures with or without flash.
>> uses the more sensitive 600 ISO films allowing photography in dull weather.
>> green light when flash ready loaded.
!! pictures take about 30 minutes to be fully developed.